[Free Sample] BabyChakra 2 Lip Balm Duo for FREE | Worth ₹349(Read How)
Get BabyChakra 2 Lip Balm worth ₹349 for FREE
---
We recently shared how you can get TUSKCA Biotin Tablets Worth ₹450 at ₹1 and now we are back with another free sample for you guys. (Ye deak sach me kaam ki hai to miss mat karna). Now you will learn how to BabyChakra's Lip Balms for Mom & Baby (9 G) Product that is worth ₹349 for free.
About This Product:
BabyChakra's Lip Balms for Mom & Baby (9 G) have Beetroot, Strawberry & Organic Pomegranate for healing Chapped, Dehydrated Lips
Organically made, toxin free, gentle on the lips – thats the promise of our Nourishing Lip Balm Duo: a strawberry oil lip balm for baby and a naturally tinted deep nourishing lip balm for moms!
This Duo is crafted for mothers by mothers & doctors. A babys delicate lips need daily gentle protection from the external environment and a moms lips need that extra nourishment & hydration to make them soft & plump with a rose tint that comes from natural extracts.
Keeping the different needs of baby and mom in mind, our Nourishing Lip Balm Duo is especially formulated with the highest standards of care, safety, and a lot of testing. Its certified toxin & cruelty free & built to give deep moisturisation for up to 12 Hours.
How to Use BabyChakra's Lip Balms
Unlike other commercially available balms, BabyChakra lip balm is entirely from natural ingredients especially formulated keeping babys delicate lip skin in mind.
Certified Safe for babys repeated use
Certified Non-irritant for babys sensitive lips
How to Get BabyChakra's Lip Balms Free Sample
Step 1: Open the given link in your default browser: "Free Lip Balm Duo."
Step 2: Click on "Start Survey" to begin the survey.
Step 3: Randomly select options for the survey questions asked.
Step 4: Submit your answers.
Step 5: You will see the product already added to your cart with the promo code applied. Alternatively, you can directly add the product to your cart by clicking here.
Step 6: Login or sign up and provide your login details. Apply the copied coupon on the payment page. If the coupon is not automatically applied, use the code "BBCFREE."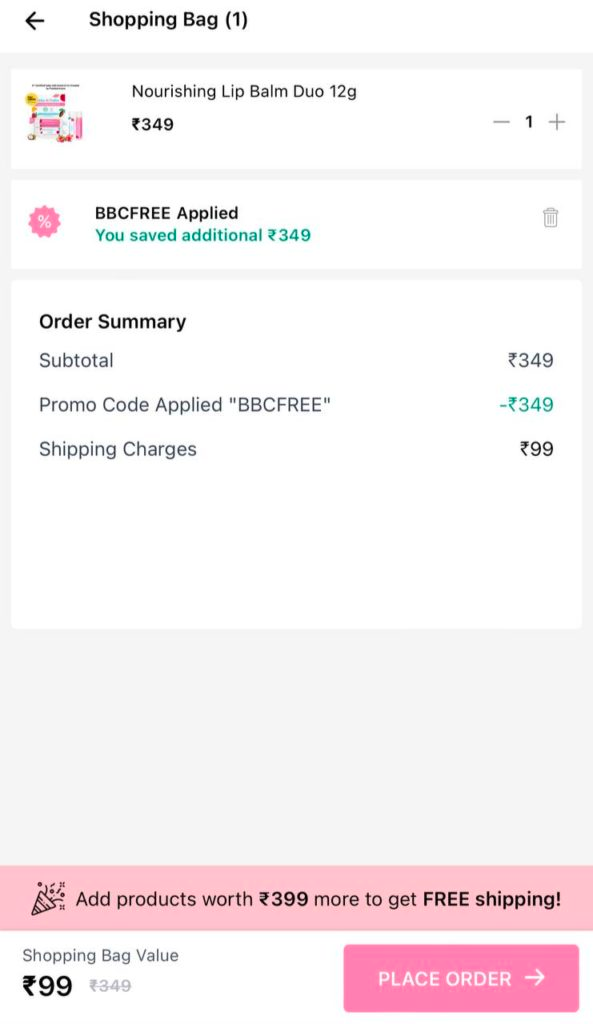 Step 7: Your cart value will become ₹0. Proceed further.
Step 8: Enter your delivery address and pay ₹99 as delivery charges (the regular price of this shampoo is ₹349) using any payment method.
Step 9: After payment, you will receive a confirmation email and message.
Step 10: Additional coupons will be sent to your registered email address.